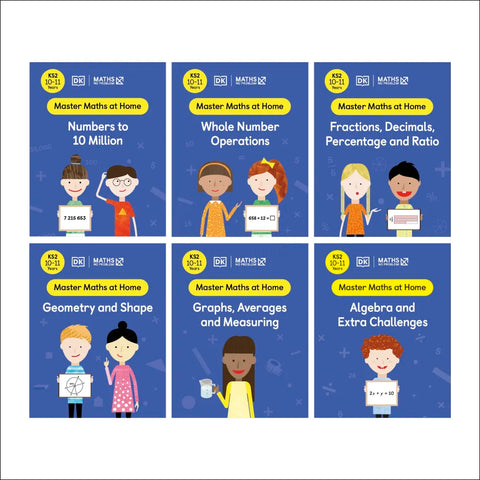 Collection of 6 Workbooks, Ages 10-11 (Key Stage 2)
ISBN: 9780241525753
Size: 278 x 219 mm
Pages: 288
Published: 05 May 2022
About Maths — No Problem! Collection of 6 Workbooks, Ages 10-11 (Key Stage 2)
A curated collection of six colourful workbooks encompassing the Maths Mastery approach!
It's time to master the world of maths with this brand new series of workbooks developed by experts to cover all the essential skills for children in the first stages of their maths journey. Specifically designed for children aged 10-11 this collection features topics including numbers to 10 million, whole number operations, fractions, decimals, percentages, ratio, graphs, measuring and averages, algebra and extra challenges.
Let Maths - No Problem! open your eyes to the wonderful world of numbers! So what are you waiting for?
Dive straight in to discover:
-Character-led learning with fun and friendly illustrations
-Comprehensive and thorough coverage of key concepts
-Helpful hints for extra practice
Heard of Maths Mastery but don't know where to begin? Don't worry, DK has got you covered!
Maths Mastery is a transformational approach to teaching mathematics that was developed in Singapore and is now used around the world, including in thousands of schools across the UK. Children are taught multiple methods to solve maths problems, enabling them to gain a thorough and adaptable understanding of topics, making it easier for them to apply their knowledge to different scenarios. Each topic is studied in depth to develop a secure understanding of maths concepts. This leads to greater progress in maths learning, as topics are well understood and therefore don't need to be revised in great detail, meaning each new concept builds on prior learning.
Based on this widely successful approach, this collection of exercise books are full of top-tips led by appealing characters who offer useful guidance to parents and children alike with the goal of making learning maths both accessible and interesting.
This collection is part of a new series developed in partnership with the award-winning educational publisher Maths - No Problem! The books encourage a deep knowledge of core maths concepts without fostering a reliance on memorisation or rote learning. In fact, Maths - No Problem! is widely used in schools in the UK and its Teacher Hub receives 4,000 daily visits on average during term time!
A must-have series for children aged 10-11 at a Key Stage 2 level, as well as for adults who wish to become more familiar with maths taught in schools, to better support their children at home.
From calculating averages to finding the volume of solids, this helpful collection covers it all whilst incorporating an inclusive approach which builds self-confidence so that no child feels they 'can't do maths'.
It's as easy as 1, 2, 3!
---
We Also Recommend
---