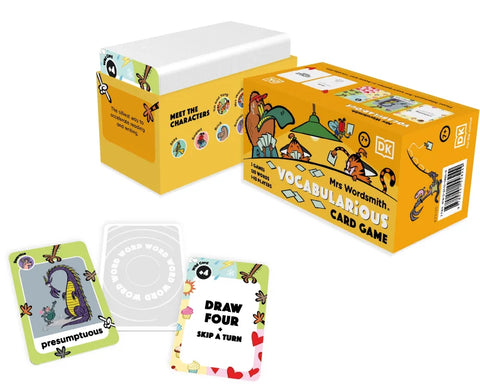 Mrs Wordsmith Vocabularious Card Game Ages 7–11(Key Stage 2) (UK)
ISBN: 9780241558249
Size: 147 x 97 mm
Pages: 200
Published: 01 Sep 2022
About Mrs Wordsmith Vocabularious Card Game. Ages 7–11 (Key Stage 2) (UK)
Engage kids' imaginations and creative storytelling with a laugh-out-loud card game!
Do you have the words to describe a nervous sidekick? An attention-seeking unicorn? A dangerously spicy sauce? May the best storyteller win!
Storyteller's Card Game, for ages 7+, teaches rich, descriptive vocabulary to help kids write brilliant stories.
Featuring more than 200 hilariously illustrated word cards and 150 story prompts designed to fire kids' imaginations - this game is guaranteed to boost vocabulary and make your whole family explode with laughter!
Developed with childhood literacy experts to ensure children learn the right words in the right way.
Play Mrs Wordsmith's fun-packed, vocabulary-boosting app - Word Tag - receive a QR code to give you 3 months of free access with every card game purchased.
---
We Also Recommend
---