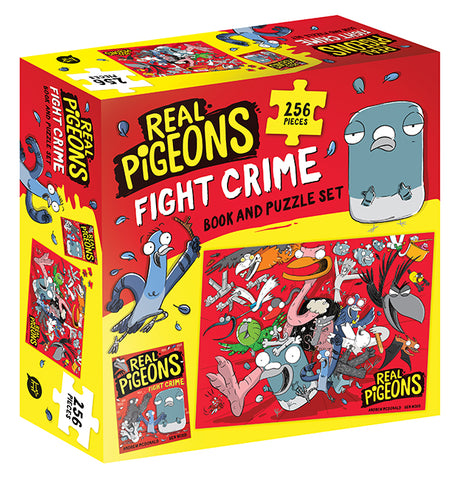 REAL PIGEONS FIGHT CRIME BOOK AND PUZZLE SET: REAL PIGEONS Andrew McDonald Ben Wood (illustrator)
Perfect for readers aged 6+ and fans of Pamela Butchart, DogMan, the Naughtiest Unicorn and Hotel Flamingo.
Join in the zany world of the Real Pigeons with an action-packed 256-piece puzzle and paperback book set! 
The REAL PIGEONS are a squad of crime-fighting heroes who solve mysteries! Like why have all the breadcrumbs disappeared? Who on earth is kidnapping bats? And can the pigeons avert a DINNER DISASTER?? 
And once you've LAUGHED yourself silly through the first book in the REAL PIGEONS series, complete the puzzle to bring all the heroes and baddies together! 
Ever wonder why pigeons always act so weird? It's because they're out there chasing the bad guys and saving your butts!
Did you know your city is protected by a secret squad of crime-fighting pigeons? It's true! With master of disguise Rock Pigeon, bendy Tumbler, strong Frillback and super-finder Homey, the REAL PIGEONS will solve any mystery and fight any bad guy to keep the city safe!
Nickelodeon is developing an animated movie and TV series based on REAL PIGEONS FIGHT CRIME, to be produced by James Corden and Ben Winston!
With over 200,000 books in print and legions of fans worldwide, the REAL PIGEONS series is perfect for fans of Bad Guys and Dog Man.
Every book contains THREE hilarious, silly and engrossing mysteries!
Shortlisted for the 2019 Readings Children's Book Prize and the 2019 & 2020 ABIA Book of the Year for Younger Children.
---
We Also Recommend
---