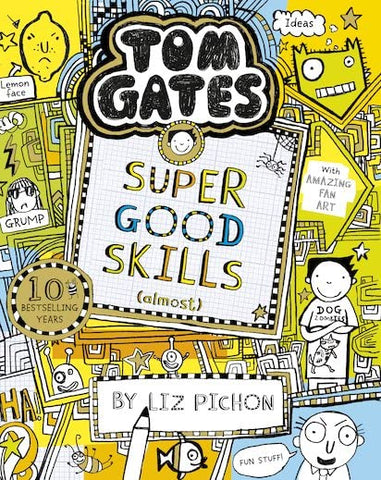 Tom Gates 10: Super Good Skills (Almost...), Pichon, Liz
ISBN ‏ : ‎ 9781407193526 | Reading age ‏ : ‎ 9 - 12 years |Dimensions ‏ : ‎ 15.2 x 2.4 x 19 cm
The tenth book in the bestselling series, from the brilliantly talented Liz Pichon.
Look out!
Tom, Delia and the whole Gates family are going on holiday.
How will Tom manage to keep himself busy on the most boring campsite ever?
By doodling, of course!
This tenth book in the series comes with doodle your own elements to keep Tom Gates fans happy for hours.
ABOUT THE SERIES:
Written in diary form
Full of Tom's doodles and pictures & his amazing sense of humour
The Brilliant World of Tom Gates, was the winner of the Roald Dahl Funny Prize!
Perfect gifts for boys & girls who love to laugh themselves silly
The first series of The Brilliant World of Tom Gates won the Scottish BAFTA for Entertainment!
Love Tom Gates? Don't miss Liz Pichon's spectacular Shoe Wars, a laugh-out-loud, gadget-packed adventure!
---
We Also Recommend
---